Image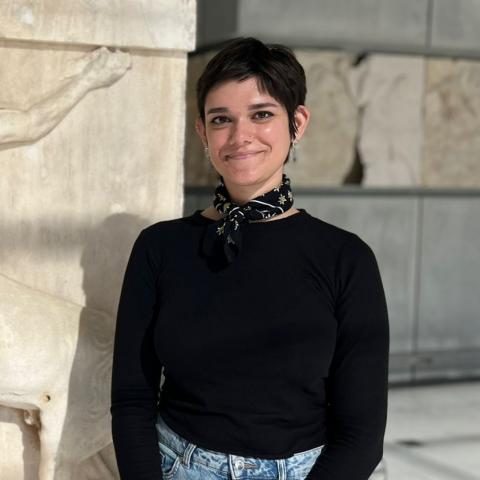 PhD Student, Mediterranean Art & Archaeology
Bio
Abigail Bradford is a PhD candidate in the Program in Mediterranean Art and Archaeology studying under Dr. Tyler Jo Smith. Her research focuses on the visual representation of an ancient Greek musical genre called "New Music" in fifth-century BCE Athenian vase painting, drawing connections between the introduction of democracy in Athens and the development of the new musical genre. She is also interested in podcasting and sensory studies and has produced several podcasts on ancient Greek music, including a podcast titled "Fresh Beats From Snoop to Euripides" with a grant from the Religion, Race, and Democracy Lab at UVA (listen here).
Abigail graduated with honors from the College of William & Mary in 2017 with a degree in Classical Archaeology and Environmental Science. During her senior year, Abigail was a McIntyre Fellow of Curatorial Studies at the Muscarelle Museum of Art and assisted in curating the exhibition Fire and Clay: New Acquisitions of Chinese Antiquities. After graduating, Abigail continued to work at the Muscarelle and assisted in researching and writing exhibit content for Women with Vision: Masterpieces from the Permanent Collection and In the Light of Caravaggio: Dutch and Flemish Paintings from Southeastern Museums.
Abigail is participating in the American School of Classical Studies Academic Year Program as the James Rignall Wheeler fellow for the 2022-2023 academic year.